Decorating Problem Surface Areas
Whether confronted with cracked plaster, unsightly dings or outdated wood wall paneling, there are quick and easy decorating solutions for these problem surface areas which yield beautiful, like-new results.
---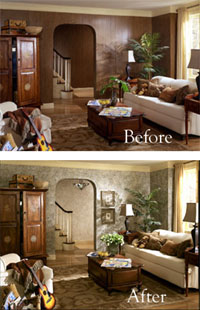 A Quick & Easy Solution to Your Dark Wood Wall Paneling Nightmare
Are you a victim of 1970s dark wood wall paneling? Does the thought of confronting it fill you with dread and leave you uninspired? Do you seek relief from this outdated decor? I too, am a victim of wood paneling. Plagued with four rooms of this stuff, I know how you feel. Read more...