Decorating A Baby Nursery or Kids Rooms
Decorating a Baby Nursery or Kids Rooms is one of the easiest decorating projects to conquer...as well as the most fun. Check out these ideas...
---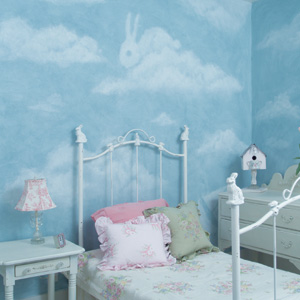 Decorating a Nursery by Painting Ceiling Clouds
Clouds engage your imagination and what better way to stimulate your little one's. Painting clouds on a wall or ceiling is an excellent choice for decorating a nursery. Plus, you can practically tie any theme into it. Don't think you're that creative? Well, it's easier than you think. Read more...
Let Your Child Have A Sleepover Every Night
New Sesame Street Wall Decor Lets Best Friends Last A Lifetime :: Sesame Street's Elmo, Zoe, Big Bird and Cookie Monster hold a special place in the hearts of children around the world. Now you can surround your little one with their favorite Sesame Street buddies in the form of wall decor that you both can appreciate in the comfort and safety of your child's own room. Read more...
Wall Decor that Kids Can Make Their Own…No Kidding!
"Mural, mural on the wall -- Mine's the coolest room of all!" Want to guarantee your kids will say that? Let them personalize their space (don't worry; you'll love it too). Read more...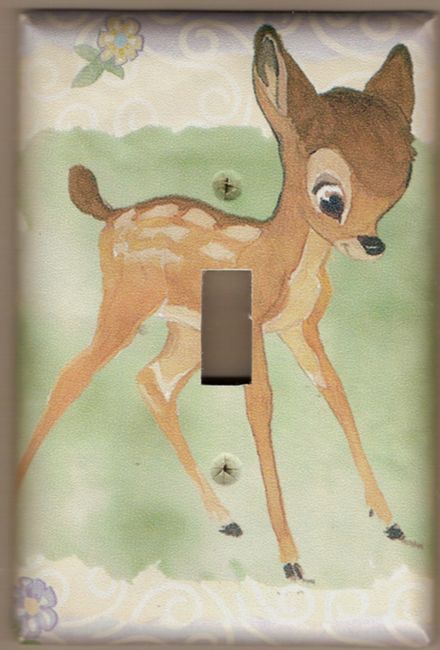 Decorative Switchplates
Handcrafted Switch Plates & Outlet Covers: Bambi, Classic Pooh & Piglet, Tinkerbell, Mickey & Minnie Mouse, Big Bird, Elmo, Cookie Monster, Bert & Ernie, and more. See all...