Are you a victim of 1970s dark wood wall paneling? Does the thought of confronting it fill you with dread and leave you uninspired? Do you seek relief from this outdated decor?
I too, am a victim of wood paneling. Plagued with four rooms of this stuff, I know how you feel.
Discover how easy decorating wood paneling can be!
But first, your choices…
Removing vs. Covering Wood Wall Paneling
The problem with removing it is not knowing what's underneath. If you're lucky, the underlying walls may just need some minor repairs.
However, the paneling may cover up seriously damaged walls or an unfavorable material such as cracked plaster or unfinished drywall, causing an even greater problem.
Unless prepared to start completely over, tearing it down is not an option.
Covering it up makes more sense and it doesn't have to be the elaborate chore you might expect.
How to Cover Wood Paneling
Given all the prep work necessary for a flawless finish, neither paint nor wallpaper are considered "quick and easy". Here's why...
With paint, you'll need to spackle and sand to fill in the grooves. It's not that difficult, but it is rather time consuming and dusty.
Regardless if you keep the grooved effect, you'll still need to be prepared for the multiple coats, noxious fumes, and inevitable mess that painting indoors brings.
With traditional wallpaper, provided the grooves are small enough, you can hang a heavy duty wall liner before applying your wallpaper. These liners are a required wall covering for wood paneling using traditional wallpaper.
Besides the time it takes to choose a pattern, you'll need accuracy in measuring, cutting and matching it just right.
This requires some thinking and coordination…especially if you have windows, doors and cabinetry to work around.
So what's the "quick and easy solution"?
What If...
What if covering wood wall paneling grooves didn't require spackle and sandpaper or heavy duty liners, and...
there were no fumes or multiple applications, and very little mess involved, and...
it was safe and easy enough to work around children…
and…
it could be completed in ONE DAY?
Imagine...
Wash and rinse the walls the night before, apply a primer/sealer the next morning, run a few errands, eat lunch at your leisure, apply your quick and easy paneling nightmare solution in the afternoon, and entertain guests in your newly decorated room that night!
Too good to be true?
Introducing...
Introducing PaperIllusion™ by Village. This product is a perfect wall covering for wood wall paneling. It bridges the gap created by the grooves and delivers an amazing faux finish result.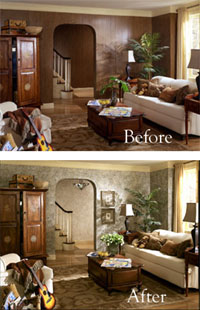 Unlike regular wallpaper, you tear this paper into pieces, dip it in water and apply it randomly to the surface.
You hang this directly on the paneling after washing and priming it without using a wall liner.
No need to wait to "book" strips or apply glue. This paper is pre-pasted with a special formula allowing the paper to adhere to itself.
It is SO easy to install...there's no measuring, cutting or matching required.
Seriously, you just tear it into pieces, dip it in water, and apply it to your primed paneling.
And the results are stunning.
Plus, it creates a true texture, not just a picture of texture.
If a faux finish effect appeals to you, check out this PaperIllusion™ product by Village. Even if you've never considered "faux finish", take a look at this solution...it truly is quick and easy, odor-free, long lasting, enjoyable to work with and achieves a beautiful result.
Finally your wood paneling nightmares are over...See for yourself!
---
Carrie Wigal is the Chief Editor for Wallpaper Trends,
a journal of the latest tips and trends in wallpaper design.
For a quick & easy solution to your wood paneling nightmare,
Click here now ==> http://www.wallpaperillusions.com/
---
** Attn Ezine editors / Site owners **
Feel free to reprint this article in its entirety in your ezine or on your site so long as you leave all links in place, do not modify the content and include the resource box as listed above.
If you need additional articles, contact me for fresh, new content you can use on your website or in your ezine for FREE! mailto:carrie@wallpapertrends.com
If you do use the material please send me a note so I can take a look. Thanks.