Enhance your Sports Memorabilia with Wall Decor!
The key to decorating a space is making it your own...showcasing your individuality. Do you have any prized collections? Perhaps a coin/stamp collection or autographed sports memorabilia...these things should be on display, not tucked away. Surround yourself with the stuff you love.
You can frame medals received in the military, mount prized baseball cards from your youth, or build a shelf to house all your trophies. The point is to add these collections to your home decor by displaying them. Keeping these in view will fan your passion and share your love with those around you.
With all that is available today, you can further showcase these hobbies using wallpaper, borders, wall accents and murals. Read more about the new wallpaper & borders available by Gramercy below.
If These Walls Could Talk: Wallpapers That Speak to Our Passions and Pastimes
(ARA) - It starts out innocently enough. Something captures the imagination and takes hold. One lesson in golf leads to a lifelong obsession. A wine tasting is the beginning for a wine collection. These are the things that come to define who we are and how we live. It is in this spirit that the Echo Collector's Home Collection from Gramercy was created.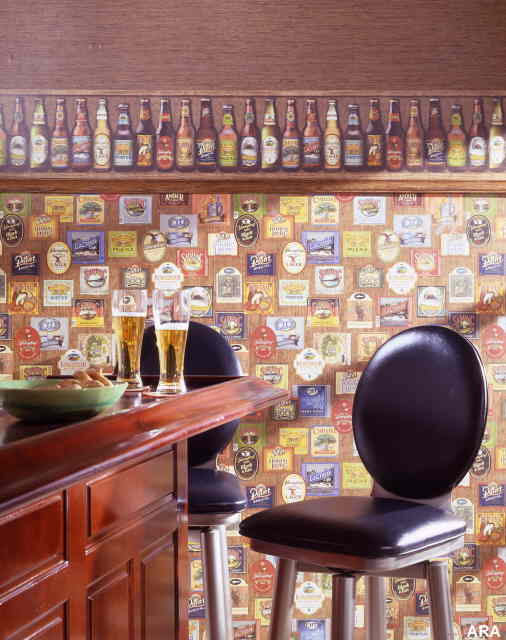 "The patterns speak to the things people love," says Shih-ma Sun, design director for Gramercy. "They're playful and fun -- and they draw you in to take a closer look."
Movie buffs will delight in the pattern that mimics the movie posters of classics in film noir, musicals and westerns from the Golden Age of cinema; each is artfully layered in a collage of color. Other patterns take their inspirations from eye-catching labels that will appeal to chocolate lovers, cigar aficionados, wine and fancy beer connoisseurs and gourmet coffee drinkers.
Memorabilia plays a big part in this collection of whimsical wallpapers and borders. Turn the pages in the sample book and you can imagine its designers rummaging through boxes of ephemera at antique stores, thrift shops and grandma's attic to create these nostalgic and heartwarming designs. Trailways celebrates the era of the passenger train with actual postcards, route maps, ticket stubs and dividend checks. Tropical takes a sentimental journey to vacations past with its color-tinted vintage postcards, some revealing handwritten messages and postmarks from the 1920s. Golf Motifs are a mainstay of novelty wallpapers, but here, you're given the keys to the country club with a print pieced together with vintage brochures, course maps, rules of play and score sheets.
Since laundry is more a chore than a passion, the designers at Gramercy had fun with Laundry, a wallpaper, of vintage advertisements for laundry services interspersed with pithy phrases such as "Laundry days are nothing more than meaningless black holes of time that suck the life out of you."
These detailed and dimensional patterns are also astonishingly versatile. In a great room, Sun suggests using a novelty print on one wall and a coordinating stripe or subtler pattern on adjacent walls. Says Sun, "Mixing designs adds drama and can make larger rooms feel more intimate." In smaller rooms, the novelty prints are such statements that they still have major impact when hung above or below a chair rail.
While the majority of the patterns have a vintage feeling, this need not dictate the style of the room. Sun says, "They work equally well with contemporary, traditional or antique furnishings."
Gramercy is a brand of F. Schumacher & Co., the 116-year-old manufacturer of fine furnishings. Gramercy's Echo Collector's Home Collection is available at wallpaper retailers nationwide. For more information, or to find a retailer, call (800) 332-3384.
Courtesy of ARA Content
EDITOR'S NOTE: For more information, contact Anne Martin at (917) 817-7557.
---
Echo Home Collections by Gramercy