Sesame Street's Bert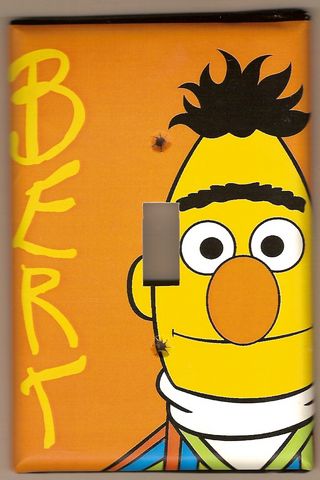 Click to enlarge
Welcome some Sesame Street® smiles into your home with these handcrafted switch plates. See your child's face light up at the flick of a switch.
These are handcrafted switchplates made by us in the USA using officially licensed Sesame Street® wallcovering. They are not made by Sesame Street®.
Coordinates with Completely Kids Wallpaper Border Pattern # 5815290
*All copyrights reserved by the respective owners. We are not affiliated with any of the copyright owners. All products are resold under the right of first sale mandate and are tributes only, not for mass production. No rights are implied or given with respect to the images used. All plate layouts are the exclusive property of wallpapertrends.com. All rights reserved.
Details: Jumbo Sized (3-1/2″ x 5-1/4″).
Made with durable vinyl coated paper that will wipe clean with a damp cloth.
Mounting screws are included.Our Price: $6.95 per set
Shipping: 3.00 flat rate
(Items shipped to Virginia are subject to sales tax)