The Ultimate Faux Finish Wallpaper:
Paper Illusion by Imperial
Samples Available
Click Image to Purchase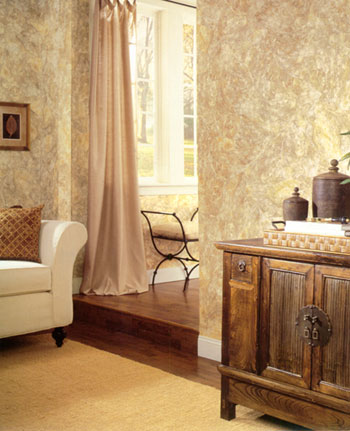 Learning how to faux finish has never been easier. In just 3 easy steps, you can obtain amazing results as pictured here.
Step 1

:
Tear this unique faux finish wallpaper randomly into irregular shapes.

Step 2

:
Dip each piece into warm water.

Step 3

:
Apply the torn wet paper in an overlapping manner to your clean, flat dry surface.
With Paper Illusion wallpaper, anyone can faux finish their walls, furniture, counter tops and more...all without painting!
Click an image below to view more details and see a larger picture.
Discover all that can be done
with Paper Illusion...Subscribe to

Paper It Fun!
Paper Illusion torn faux wallpaper is prepasted, washable, peelable and offers a random match. Paper Illusion is the elegant, affordable faux finish wallpaper that is easier than paint. Just rip, dip and apply! If you can tear paper, you can decorate your walls with this unusual, affordable faux finish wallpaper. Paper Illusion gives you the look of an expensive, handcrafted faux marble or stone finish, but at a fraction of the price. And best of all, you can do it yourself! Paper Illusion gives you a unique, torn-paper look that is as easy as it is elegant. You do not need any messy paints, pricey tools or costly contractors. A Paper Illusion box contains 85 square feet of paper, covering approximately 75 square feet including overlap. Paper Illusion is also easy to remove: Simply moisten with warm water, repeating until the pieces peel off.